Morning, peeps!  Okay, so it's time to mix things up a little bit.  We give lots of stuff away at Some Odd Girl when we have new releases and blog hops, and yes, we just wrapped up another 3 days of digi giveaways, but I'm feeling inspired.So here's what I'm proposing.  Read carefully!
I want to see you rock a Some Odd Girl badge on your blog (pinned in a post on top, or near the top of your sidebar – I'd love to see it on top, if possible, but I know your DTs are priorities!), and I want you to leave a comment below with your best SOME ODD GIRL SLOGAN.  Anything goes!  Something cute, something quirky, whatever you can muster up!  My fave slogan will get a special prize pack, including a bunch of fabby new stash from Oozak.com, as well as TWO 4″ x 6″ clear stamp sets from Some Odd Girl.  Yep.  Just because I'm feeling GENEROUS. 
You have until Sunday, May 6th to get your entries in, and I'll deliberate for a day or two, with the winner to be announced on Thursday, May 10th.  You ready?  You up for this challenge?  GO! Grab the blinkie below if you don't already have it and let's see it!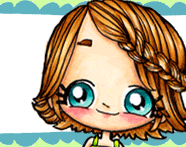 ANNNNND, I hope you're all having a wonderful week, and have enjoyed our reveals…  It's been a lot of fun in the Odd House for the team, and we have LOVED creating with the April digis…  Have you had a favorite digi?  Is there a project that stood out the most?  What are you working on right now?  🙂
I promised two winners from yesterday's Kaylee post, so let's get THAT sorted, shall we? 
First up, we have Lazy Day Kaylee (who's been a big hit amongst the Odd Girls!)…  that digi goes to
And Tweet Kaylee, who's as adorable as can be and makes me sing Mary Poppins…  congrats to
Thank you ALL for your comments this week, and congrODDulations to our winners!  Ladies, please send an email to Kristy@someoddgirl.com and she'll hook you up with your digis!  Remember you must have an account with SomeOddGirl.com for your downloads.
Don't forget about all the other things we have going on right now too like our CHA Raffle, Our ca-ute featured digi and all the fun on our Facebook and Twitter! We'd love to connect with you and see what you're up to!