Good morning folks!  Leah the Orange checking in, celebrating my country's birthday, and wishing all of our Odd CANADIAN friends a very happy Canada Day! 
I'd like to take a quick moment to say holy WOW, there were some seriously UNBELIEVABLE projects submitted for our June Color Inspiration Challenge, and we Odd Girls were blown away by your mad skillz!  Lots of different styles and colors and fun interpretations – it was EXACTLY the response we'd hoped for.  We could see what inspired you about the image and colors, and that's precisely what the challenge was all about!  So a very heartfelt THANK YOU to everyone who played along!  I will be back with an 8 a.m. post tomorrow to announce our winners.
Today, however, it's time for our next SKETCH CHALLENGE (and we all know how much you love sketch challenges!).  This one's clean and simple, but that doesn't mean you have to go clean and simple with your project!  In fact, there is a TON of room for embellishing and taking it way out of the box, as you'll see with some of our Odd Girls' projects below.  First, let's take a look at the July sketch, shall we?  🙂
Hmmm.  Yes, lots and lots of negative space.  A circular/oval shape.  A strip across the front, grounding everything…  But does that mean you have to incorporate an oval or circle, or have a strip running across the front, or even use rectangular shapes as shown in the sketch?  HECK NO!  Go to town with this one, and let's see what brilliant things you crafty peeps can do!  Check out these inspiring creations from our very own Odd Girls…
Faye used Gifty Gwen
Annette used Summer Kaylee
Melissa used Crushin Gwen (sentiment from Thank You Mae)
Arabella used Kite Flyin' Mae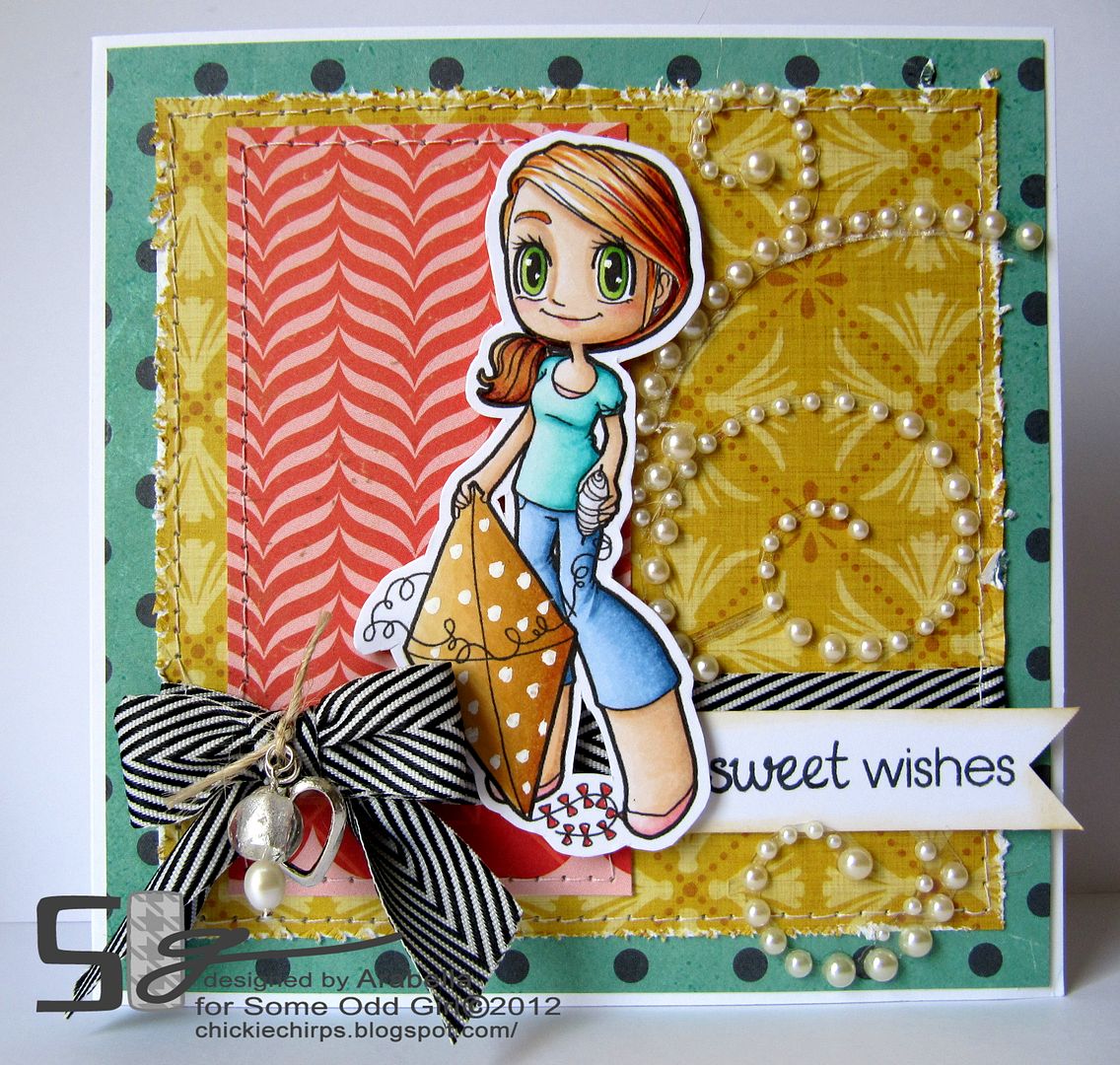 Anna Maria used Giggle Fairy
 Barbara used Nouveau Girls Fan
 
And I (Leah the Orange, at your service!) used Coy Kaylee
SO!  You're inspired, right?  Do you see what I mean about interpreting the sketch in a bazillion different ways?  Well what are you waiting for?!  Get to craftin'!  Play along below using ANY Some Odd Girl stamp (digital or clear, accessory, sentiment, whatever!) by Monday, July 30th at midnight EST, and you could win FIVE digis of your choice from the store (for our randomly drawn winner), or one purdy little 3″ x 4″ clear stamp set for our very favorite entry.
GET TO IT!  Happy crafting, and we'll see you tomorrow!  🙂