Well folks, can you BELIEVE it's already September 1st?  Where, oh where, has the summer gone?  And the whole year, now that you mention it!  Crazy, right?  Leah the Orange here with you on this warm Saturday morning, and since there's no use fighting time, we Odd Girls are welcoming September with lots of optimism and we know it's going to be an exciting season at Some Odd Girl…
With this new month comes a little change at Some Odd Girl, and we are quite saddened to tell you that we are saying "see ya latah, alligatah" to one of our talented gals…  She's moving along because of exciting things going on in her family life, so we are VERY happy for her, but we will miss her around these parts!  *sniff, sob*  Her amazing projects have been a welcome addition to our blog posts for the last 8 months, and I, for one, have always been inspired by the beautiful, bright colors and fun element combinations she uses on her creations.  Miss Meredith, we wish you all the best, and you have been a FABULOUS part of the Some Odd Girl team.  You shall be missed around here, but we know you'll still be AROUND!  Take care, Meredith!  Visit often, or I'll have to hunt you down and, um, steal your crafty stash.  😉 
And of course, with one down, there were some BIG shoes to fill!  We are welcoming another face BACK to the Some Odd Girl Design Team, and we are all quite excited about her reappearance!  Remember this girl?  
Hey, I'm Lou Mac. I've been making cards since the Christmas of '09 when I decided I wanted to make my own Christmas cards. Let me tell ya, I've come a LONG way since then – or so I'd like to think. I live in Newcastle Upon Tyne, England with my Mam and cat, Shadow. I enjoy reading (horror, thriller, crime, sci-fi), walking, going to the cinema and baking yummy cakes, but my biggest passion is crafting. I have always loved paper and stationary for as long as I can remember, so the transition into card making seemed natural. I'm a total night owl, so most of my makes happen in the early hours of the morning when there is nothing but peace and quiet about the land. I generally make C6 size cards, but have ventured into the world of 3D projects lately, such as boxes and drawers. I also enjoy making tags for quick little projects. I have an obsession with patterned paper, I totally hoard the stuff, which is bad.. considering my craft area is in the corner of my TINY little bedroom.
I can't wait to start inspiring you all through my term here using these AH-mazing images. I'm sooo not artistic, in fact I hated art at school, so I'm extremely grateful for artists like Kristy who come up with these amazing drawings for us to colour til our hearts content! I always get asked 'what is your card making style' and I never have an answer, I guess I just go with my own thing and if I think it looks good, then it looks good. Patterned paper (of course), doodling and flowers feature regularly on my cards. It's an honour to be chosen as an ODD girl an I cannot wait to get to know the rest of the team!!
Welcome back, Lou Mac!  🙂  This girl is still Odd, in our eyes, and will always be an Odd Girl in some capacity.  You might remember her by her quirky sense of humor and fun vocabulary, and some utterly GORGEOUS creations…  Lou is a wonderfully welcome addition to our amazing team, and we look forward to more of her AMAZING projects!
So let's kick off September with a brand new sketch challenge, shall we?  Off we go!
And let's see how our gals were inspired….
Lou Mac and her grand return using Summer Kaylee
Melissa using Photo Kaylee
Arabella used Fly Away Fairy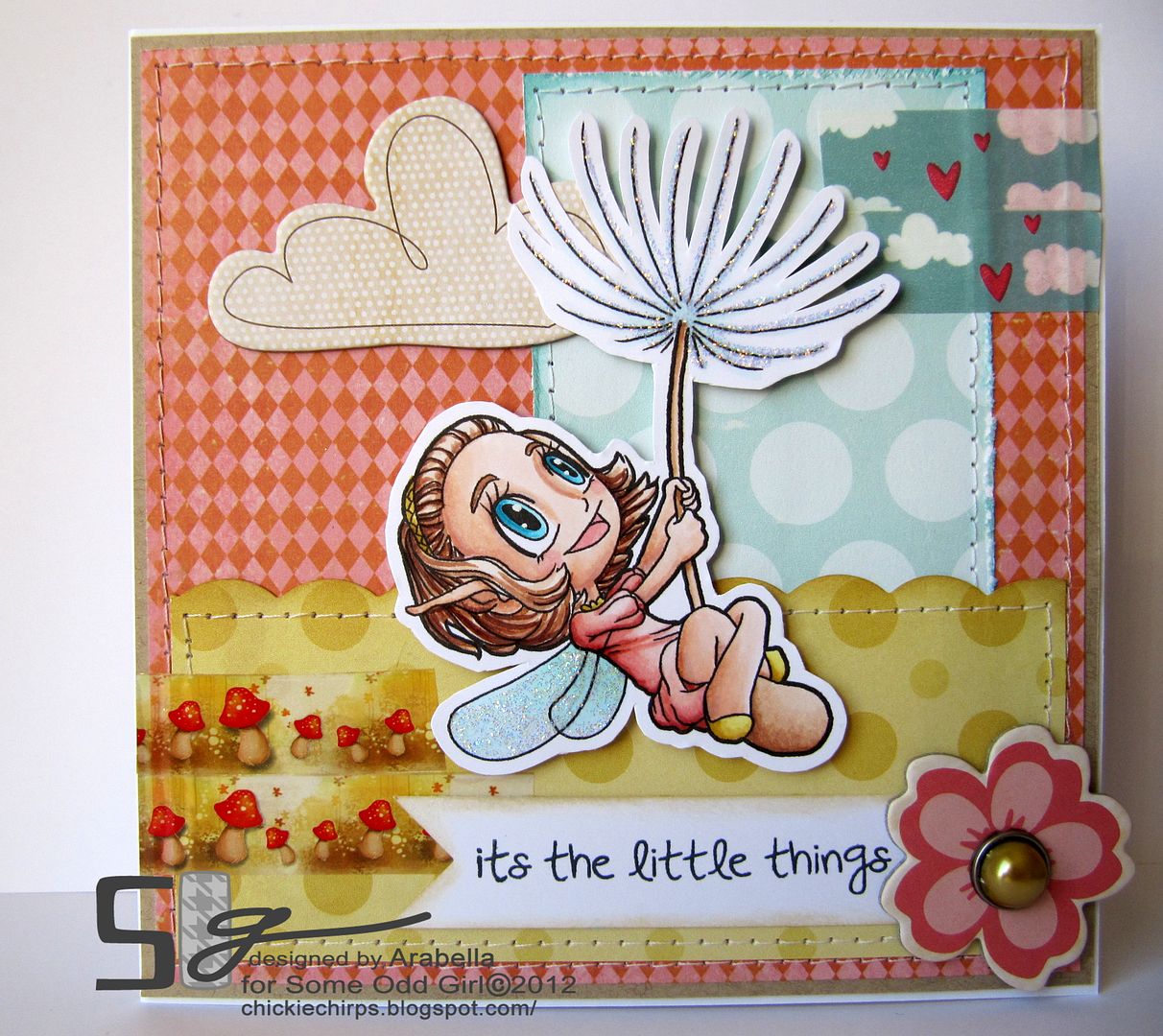 Annette using Preppy Pups
 Åsa using Preppy Pups
Alyce using Woodsy Mae
Rachel using Giggle Fairy
Anna Sigga using Preppy Pups
 Indah using Nouveau Girls Renew
Anna Maria used Foxy
Kristy used Tweet Kaylee
And that will do it, folks!  This time around, we're giving away 3 digis to the randomly chosen winner, and a 4″ x 6″ clear stamp set for the FAVE!  *winner's choice!* Remember that you must use a Some Odd Girl stamp on your creation, and you can make ANYTHING you'd like!  Our September sketch challenge runs through Saturday, September 29th at midnight EST – join us!  And don't forget to share your projects in our Facebook group so MORE of the world can see your beautiful creations!  🙂  Link up below to get in on the action, and we'll see you Monday with our August challenge winners!